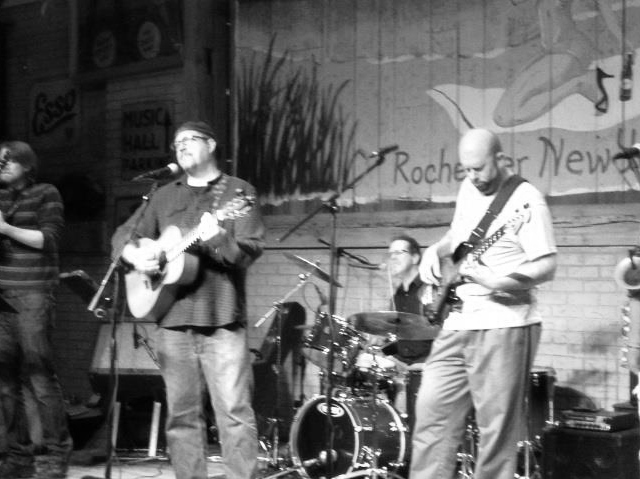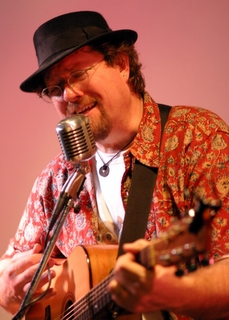 Brian Burley
Brian Burley was so excited when he'd saved enough of his paper route money to buy his cousin Paul's red Norma electric guitar. His first couple songs were CCR gems, Down on the Corner and Bad Moon Risin'. The Burley Brothers were always swappin' tunes from Burl Ives and Dylan to Shawn Phillips and the Grateful Dead. Brian wishes he still had some of that great vinyl his brother Chris ripped off.

Over the years Brian's picked mandolin through Ireland, sung around many a campfire, hacked out bluegrass and folk with The Cheshire Cats and The Groundhawgs, and sung praises with Common Ground. Most recently he's covered rhythm guitar and lead vocals for Out of the Blue and Blue Laws. The most recent resurrection of Out of the Blue offers a tasty blend of classic rock, blues, folk, reggae, and rockabilly.
undefined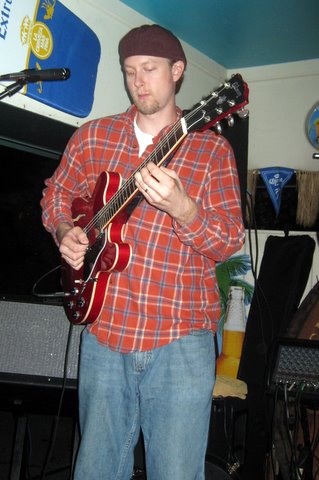 undefined
Jeremy Laursen is a graduate of Berklee College of Music, Boston, MA. Since then Jeremy has found his way as a composer, performer, and educator.brbrAs a composer Jeremy has just released his first album entitled ABC, and is currently working with his all original band. brbrAs a performer Jeremy has played many styles of music around the New York and New England areas. His past groups include Treefort, Oscar's Army, and Infinite Frequency. He currently performs with Nik and the Nice Guys from Rochester, NY.brbrAs an educator Jeremy teaches online at SamAshMusicInstitute.com as well as privately at East Lake Music, Canandaigua, NY. He is in the process of writing a book about the use of major triads intended for all musicians, as well as a book for the beginner guitarist.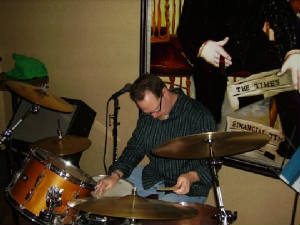 John Maguire started playing drums as an eighth grader on Long Island, figuring (wrongly) that it would be an "easy way to meet chicks". He bought his first drum kit, joined a garage band, and, in worn jeans and a Led Zep tee shirt, was soon playing his first gig, where he observed that the chicks were fixated on the singer and guitarist.
Since then, he has worn a tuxedo in a burlesque club band, where he had a difficult time keeping his eyes on the music, (which, you have to admit was a pretty cool gig for a 17 year old); a leisure suit in a disco band ("do a little dance, make a little love, get down tonight") and makeup on stage in the pit band of a local production of "Cabaret".
In the summer of 2007, John was in the midst of a 15 year break from the music scene, when out of the blue, he had a chance encounter with his college bartender. In one of life's strange twists of fate, John now finds himself attending weekly rehearsals in the Burley basement, where Brian is once again serving him beer.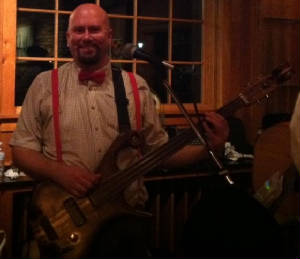 Paul Towsley (Bass Player) has been playing bass for more than 15 years. He currently plays with Burn Unit, The Meta Accord, Out of the Blue, the Jeremy Laursen Trio, Nik and the Nice Guys, Rochester Rat Pack, and The Off Monroe Players. Paul is proficient at Upright, Electric and Fretless Bass. Paul loves playing Jazz, Funk, Rock, Opera and Musical Theatre. He has studied under Ralph Ortiz, Dick Delaney and Eric Davidson.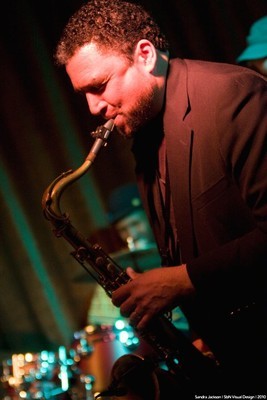 The man can blow! Doug Egling will feed us some info any day now!